Staff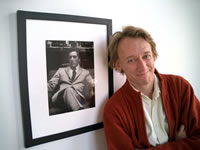 Anthony Nicholls, President and CEO
PhD, Florida State University, 1988
Anthony Nicholls is from Plymouth, England, home to what used to be one of the worst soccer teams in the nation. He studied Physics at Oxford after which, looking for something different, he joined the Institute for Molecular Biophysics at Florida State University. There he studied quantum dispersion of excitations in biological systems with
William Rhodes and football with Bobby Bowden. He earned his Ph.D. in biophysics in 1988 and began a post-doc with Barry Honig at Columbia University, New York. There he re-wrote the electrostatics program DelPhi and wrote the widely-used graphics software GRASP. Owning and controlling rights to neither, he listened to the wisdom of Dave Weininger, founder of Daylight C.I.S., and left Columbia in 1997 to found OpenEye in Santa Fe, New Mexico. His chief desire is to have the work ethic of his father who, in 1996, retired as the longest serving postman in England (48.5 years).

A. Geoffrey Skillman, Chief Scientific Officer
MD, UCSF School of Medicine, 2000 PhD, UCSF School of Pharmacy, 1999
Geoff Skillman graduated from Stanford with a degree in Chemistry in 1990. His herculean efforts at UCSF earned him a Ph.D. with Tack Kuntz in 1999 (Structure-Based Design of Combinatorial Libraries) and an M.D. in 2000. Geoff enjoys fishing, biking and relaxing with his family. He was also one of the OEChem authors, wrote Omega 1.8, Filter, QuacPac, the LexiChem Plugin and now Brood. He is now in charge of scientific research at OpenEye, which just goes to show that no good deed goes unpunished.

Bob Tolbert, Chief Technology Officer
PhD, University of Idaho, 1997
Bob Tolbert received a B.S. degree in Chemistry from the United States Naval Academy in 1983. Upon graduation, he entered Nuclear Power training and served as an officer aboard submarines in the U. S. Navy for ten years. Bob earned a Ph.D. in Chemistry in 1997 from the University of Idaho where he worked with W. Dan Edwards studying the theory of atoms in molecules as applied to homoaromaticity. In 1998, Bob joined the Information Technology group at Boehringer Ingelheim Pharmaceuticals, Inc., where, as a Senior Principal Systems Engineer, he was responsible for all aspects of computational chemistry and cheminformatics. In 2002, Bob ran away to join the circus. And the circus was glad to have him. Now ringmaster to the plethora of OpenEye product, Bob continues the high-wire act of programming and managing those who program. He is responsible for the current ROCS, EON, python and java toolkits and has contributed to nearly every other program. Who said the circus was supposed to be fun?


Matt Bagwell, Web Developer
BFA, Rochester Institute of Technology

Cynthia Bancale, Marketing Manager
BFA, Temple University, 1986
Cynthia was actually hired to work on non-linear Poisson-Boltzmann theory and its application to the Smoluchowski diffusion equation, but one day at lunch we discovered she was the only one who actually knew what "Social Media" was, and when she explained it to us we thought we should get us some of that. And, as luck would have it, she's also pretty damn good at that whole 'design' thing, so instead of being our partial differential equations geek we made her our Marketing Manager. As such she'll be spreading the OpenEye word like a thin coating of Marmite on warm buttered toast. One more thing. Cynthia gave up caffeine several years ago and as a result is a much calmer person. Once you know her this is really kind of frightening.
Jose Batista, Toolkit Specialist, OpenEye Europe
PhD, Friedrich-Wilhelms-Universität Bonn

Christopher Bayly, Senior Scientist
Ph.D. University of New Brunswick, 1991 Quacpac toolkit developer
Starting off with a B.Sc. in Biochemistry, Christopher initially moved into synthetic organic chemistry, naively believing a professor mentor that this was the way to unlock the secrets of bio-organic chemistry. A couple of years, several enol esters, and many columns later, he saw the light and switched to theoretical chemistry, tying up the synthetic organic work with a Master's degree. Beginning his doctorate in Theoretical Chemistry peculiarly unconcerned about the fact that he had never actually done any, he found it took a little longer than he thought to plow through quantum theory but nevertheless managed to complete his Ph.D. He found RESPite in a wonderful and stimulating but all-too-brief postdoc in Peter Kollman's group at UCSF. Subsequently joining Merck Frosst in Montreal in 1992, he founded and built the Chemistry Modeling and Informatics group there, leading it right through to the very end with the closure of the research site in 2010 (not his fault). While working in drug discovery there he could not resist the siren call to continue external collaborations and the development of new methods. The charging method AM1-BCC (with his first PhD student Araz Jakalian) is probably the best known of these methods, so far, although his work on molecular polarization with Jean-Francois Truchon was truly EPIC. Somewhere along the collaborative way he fell in (arguing) with Anthony Nicholls and his motley crew at OpenEye, and when opportunity recently presented itself, Christopher threw in his lot with them, starting at OpenEye in January 2011.

Krisztina Boda, Senior Scientific Developer
PhD, University of Leeds, 2009 Lead OEChem, OEDepict and GraphSim toolkit developer
Krisztina came to us highly recommended by Johnny Gasteiger and Peter Johnson. We used to think that was because of her skills in computer science, her original training, or chemiformatics, her current specialty. But as time goes by we realize the truth is probably close to this - when she returns from visiting her family in Hungary she brings back SUCH. GOOD. CHOCOLATE. So thank you, Peter, thank you, Johnny, our waistlines may never be the same. Actually, she is possibly the most industrious person we've seen at OpenEye, presenting two posters to most people's one. This, unfortunately, has spurred something of a competition, with someone presenting three posters at EuroCUP III in Toledo. As we can't possibly let anyone beat us in anything, we eagerly look forward to her first four poster meeting. No pressure, Krisztina.
Karen Bridges, Administrative Assistant
BA, The Evergreen State College 2001
"Karen, aka "The Cake Maven", grew up in the sleepy little town of Mount Vernon in the beautiful Skagit Valley of the Pacific Northwest, best known for its tulips and annual Tulip Festival. It has been rumored that Mount Vernon actually ships bulbs to Holland (but let's keep that on the down low). She graduated from the infamous Evergreen State College with a Bachelor-ette of Arts in music composition and humanities. Recognizing her honorable, but worthless, degree for what it was, she moved to Krakow, Poland to teach English as a second language and to indulge her bohemian and musical nature. Although Karen never tired of Poland or its hospitable culture, she did grow homesick for the sight of tulips and for her family, so she finally decided to return to Washington State after seven months to do the "adult-with-a-real job" thing. It was then Karen temporarily lost her mind and decided she would make a great paralegal. She went to school to earn her certificate and then spent the next seven years working for various counties and municipalities for the State of Washington assisting Prosecutors with criminal cases. Karen even served as the advocate for victims of domestic violence for two and a half years on behalf of the Skagit County Prosecutors. During these years she watched a lot of "Star Trek: the Next Generation" to restore her faith in humanity and refurbished countless vintage bicycles to channel her aggression towards mean people. She's not sure how she landed in Santa Fe, but is glad for it because she adores chilies, hot air balloons, and the amazing fragrance of cottonwoods (the state tree of NM). When she's not helping keep order at OpenEye, Karen likes to hit the road and be a groupie for Nick Cave and the Bad Seeds."
Florian Brozek, DevOps Engineer
BFA, Cooper Union School of Art, 2009
Barry Connolly, Account Manager
BS, University of Massachusetts


Amanda Cola, Head of Finance
MBA Finance, College of Santa Fe
Amanda joined the OpenEye team in February of 2018 as the Finance and Accounting manager. Prior to her joining she served as Vice President of Finance and Business Operations and Corporate Secretary at Sigma Labs, Inc. until October 2, 2017. From 1994 to 2014, she worked within the NNSA Weapons Complex at Los Alamos National Laboratory at which she held various positions, including Senior Financial Lead and Procurement Specialist of the Chief Financial Officer - Division and Business Operations Division, respectively. At Los Alamos National Laboratory, Amanda worked with a wide range of national security missions crucial to DOE Mission Objectives for programs such as Environmental Management, Non-Proliferation and Science, Technology and Engineering. Amanda graduated with honors from the College of Santa Fe with a BA degree in Accounting and an MBA in Finance. When not working on the financial infrastructure at OpenEye, she enjoys spending time with her family & friends, traveling, and embracing the art, multitude of cultures, and great outdoors New Mexico has to offer.

Tom Darden, Senior Scientist
Ph.D. UC Berkeley, 1979 Lead Statistics toolkit developer
Tom Darden, aka, the man who made simulations of proteins actually not look stupid. Tom, as you will recall, was responsible for bringing Ewald sums to molecular simulation. Before that, those of us in the implicit solvent world loved to sit back and smile smugly at how the explicit solvent boys and girls could not keep a protein from unfolding if they kept running their simulations. Tom's work changed all that and so before he did any more damage, i.e. actually made simulations actually useful, we thought we had better hire him away to the desert. Here, he is our Mathematician-in-Residence, competing with Anthony to see who can have the most unread books on their shelves.
Jack Delany, Senior Scientific Developer, PhD
David Estrada, Front End Web Developer
MS, New Mexico Highlands University

Jeffrey Flinn, Front End Web Developer
BS, Wayne State University

Matt Geballe, Senior Applications Scientist
PhD, Emory University, 2009
Matt came to CUP. Matt gave a great talk. Matt now works here. 'Nuff said? He's now the SAMPL man, taking over the responsibilities that made first Ant and then Geoff realize the beauty of being able to pass the buck. But he makes it look easy, darn it. Matt hails from the 50th state (Hawaii for the historically challenged) and thinks the calm, cool, laid-back attitudes at OpenEye reminds of home. Ok, he doesn't exactly say that, but we're pretty sure that's what he thinks. While being disappointed he doesn't seem to have heard of 'Hawaii-5-0', we like him anyway. Book him, Dano.

Jeffrey S. Grandy, Chief Commerce Officer
MS, Washington State University, 2000
The third of our sales, oops, account management trilogy, Jeff is our West Coast representative. He spent some of his early years in England, which probably accounts for his affable nature and his good taste, and has traveled extensively, sometimes with the Grateful Dead, sometimes solo. Some in the company had a hard time when he first joined in 2007 with the name collision with Geoff Skillman, although why people would think "Grandy" and "Skillman" sound the same is beyond some of us. We also hadn't anticipated his exceptional driving skills, no doubt developed during rush hour on San Francisco freeways. Who knew handbrake turns were legal on major highways? Jeff Grandy, laid-back dude, whiskey connoisseur, our guy way out West.

James Haigh, Director of Global Scientific Support/Team Leader
PhD, University of Southhampton, 1995
James earned his B.Sc. (Hons) degree in Chemistry from the University of Southampton, and a Ph.D. in Physical Chemistry, also from Southampton. He first came to the US for post-doctoral research in polymer physics at Florida State University with the famous Leo Mandelkern (Flory's last student), in the same building where Anthony did his PhD, though not at the same time. On returning to England he worked for OpenEye at AstraZeneca Pharmaceuticals, researching the shape-space of drug-like molecule with Andy Grant, and developed in-house software for AZ using the OpenEye toolkits. He wrote many papers during this period. In his head. He returned to the States in October of 2010 to take on the role of toolkit support. And writing papers

Paul Hawkins, Head of Scientific Solutions/Team Leader
PhD, University of St. Andrews, 1993
What were the odds that OpenEye would hire another Englishman? Long, you might have thought, which just goes to show why bookies make their money. Paul used to work at Tripos, and when we saw him give a talk that made their software look good, we made him an offer. Paul is the first of a new breed at OpenEye, an application scientist. What we mean by that is that Paul will be helping customers do science with our applications, either by visiting them and delighting them with stories of how dysfunctional we are, or by working on examples, white-papers and publications in the home office. Paul, he's from OpenEye and he's here to help you.
Jharrod LaFon, Senior Software Developer
MS, New Mexico State University, 2012
Burt Leland, Senior Scientific Developer
PhD, California Institute of Technology, 1986 - OEChem and OEMedChem toolkit developer

Fred Livingston, Accounts Manager
PhD, Duke University, 2000

Mark McGann, Principal Developer
PhD, Tulane, 1998 Lead Docking Toolkit developer Lead FRED application developer
Mark McGann received his B.S. from Rensselear Polytechnic Institute in the Spring of 1993. He then spent six months as a quality assurance engineer at Rogers Materials Molding division before entering graduate school at Tulane University Chemical Engineering department in January 1994. His graduate research focused on detailed molecular simulations of polymer crystals. Mark graduated from Tulane with a Ph.D. in Chemical Engineering in the fall of 1998 and took a position at the Johnson & Johnson Pharmaceutical Research Institute where he developed fast docking programs for structure-based drug design in collaboration with OpenEye. He joined OpenEye in October 2000. Mark has the most amazing collection of video games anyone has ever seen.
Beatrice Montoya, Office Manager/Team Leader
BS, Western International University

Joe Moon, Senior Developer, Lead VIDA application developer, User interface developer
BS, University of Kansas, 1985
Joe received a B.S. in Chemistry from the University of Kansas in 1985, started a Ph.D. in Medicinal Chemistry at Kansas, then left to join the Upjohn Company to help them write a molecular modeling package, Mosaic. During this time he was a coauthor of the famous "Anchor and Grow" paper with Jeff Howe (yes, that Joe Moon). He later led the development of Mosaic at Pharmacia, and more recently led the team developing Pfizer's visualization software, MoViT. Joe joined OpenEye to finally escape from visualization software, and is now responsible for VIDA.
Shyamal Nath, Physics Toolkit Programmer
PhD, New Mexico Tech

Perri Needham, Scientific Software Developer
PhD, University of Manchester, 2013

Scott Parker, Head, Eastern North America Sales Group
BS, Salem State College, 1992
Scott Parker is a Spoken Word performer who has bridged the gap between poetry and science. His dynamic style of speaking and Fire Flowpoetry combines rhythm, science, and a highly condensed depth of poetic language. His delivery on stage makes him one of the most unique and riveting performers on the U.S. scientific and artistic landscape. Scott speaks shamanically through poems of drug discovery and computational methods, tells modeling stories of the international pharmaceutical and Biotech communities, and poetically rants and rages about both Ligand-based and Structure-based drug discovery. In 2006, he was appointed as the first ever "Poet-In-Residence" at OpenEye Scientific Software, Inc., Santa Fe, New Mexico's premier computational Chemistry software provider. He has performed over 500 times in the USA with other computational companies, modeling software outfits, and as a solo poet.

Phillip Sawunyama, Director, Support & Training
PhD, University of Wales, Swansea, 1994
Phillip is Mr. Support at OpenEye. He is responsible for the new bug reporting and tracking system at OpenEye, FogBugz, and for the new focus on training and documentation. He joined us in 2008 from Tripos. We always said we hired Paul Hawkins from Tripos because in his interview he made Tripos software sound cool. Well, we hired Phillip because he explained ROCS to us in a way that made us think it was cool. (Disclaimer: which, of course, it really is, but when you live with it for ten years the magic can get lost). Phillip is originally from Zimbabwe, has lived in Japan and is one of the few people in the Santa Fe office to mean football when he says "football." He's brought a new dimension to the company and anyone who can make Anthony and Roger sit in the same room and 'train' them to use something new, clearly has exceptional powers. One of those people who makes you realize OpenEye has come a long way.

Kevin Schmidt Principal Developer
BS, MIT, 2001 Lead BROOD GUI developer User interface developer
Kevin Schmidt decided to work at OpenEye when he saw Anthony drove a better car than he did. Prior to that moment of enlightenment, he had worked in several real companies, including NASA-Ames and the ill-fated Ars Digita. He's a graduate of MIT and his last job involved writing the sound subsystem for the video game "Spiderman." In other words: he's a real programmer, unlike some of us.
Nickolas Sewell, Systems Administrator

Gunther Stahl, Senior Applications Scientist
PhD, Heinrich-Heine-Universität Düsseldorf
Iliana Toneva, Web Developer
MS, University of Sofia 2007


Vincent Vivien Director of European Accounts
M.Phil., Heriot-Watt University, UK, 1998 M.Sc., Lyon School of Industrial Chemistry, France, 1997
Vincent came to us in a rather non-traditional way. After many years of rigorous study at a Shaolin temple in the Henan province in China, he wandered the highways and byways of European pharma and biotech, dispersing wisdom and sales quotes. Then, quite by chance, he came across rumor of the fabled OpenEye Way, a secret technique for convincing customers to buy software without conflict or anger, as exemplified by its founder. After passing many rigorous and exacting tests, such as eating at Horseman's Haven without complaining, he was inducted into the company in 2006 and has applied his newly refined skills with great vigor and success in our European office in Strasbourg, France. In particular, he organizes EuroCUP each year to great acclaim and shepherds application scientists around Europe, forcing them to sample expensive food and drink rare wines. Or at least that is what they claim. Oh, and he drives a 'very nice' car and claims he was once a medicinal chemist. (Actually, he joined us in a very traditional way- he previously worked at BioReason. The rest is pretty accurate)

Stanislaw Wlodek, Senior Scientist
Ph.D. University of Warsaw, 1984 Lead Szybki toolkit developer Lead Sybki application developer
Stan Wlodek received his Ph.D. in Physical Chemistry from the University of Warsaw. He spent several years in Canada as a post-doc and then went south to the University of Houston where he worked with Andy MacCammon. He moved to Santa Fe in 1998. In the fall of 2001, Stan started working as a consultant with OpenEye, implementing the AM1-BCC charging method of Christopher Bayly. He decided against taking the coaching job for Poland in the 2002 World Cup, which can be directly related to Poland's lethargic performance, and joined OpenEye. Notwithstanding on how well Poland does in the 2010 competition, we anticipate Stan remaining at OpenEye and continuing his work on SZYBKI (he made us name it that) and AFITT (our bad).
Forrest York, Scientific Software Developer

Jun Zhang, Ph.D., Scientific Developer
Jun received a BS in Chemistry from Peking University in Beijing and started a PhD in Chemistry at the University of New Mexico in Albuquerque in 1996. Luckily for us he changed his major and instead received a PhD in Computer Science. After initial endeavors with local software start-ups, he rediscovered his interest in Chemistry and joined OpenEye. Jun is one of our experts in C# and Windows, though now claims to enjoy C++ and Python. Who could not? Jun works in our Scientific Solutions group.
Makoto Ishizaki Accounts Manager, OpenEye Japan
Back to top