Trusted Science. Delivered the Way You Need.
The Orion®
Small Molecule Discovery Suite
Ligand- and Structure-Based Modeling

Rooted in science, optimized for performance. The Small Molecule Discovery Suite in Orion provides a complete range of easy-to-use ligand-based and structure-based modeling workflows for all your therapeutic project needs.
Increase the hit rate of your virtual screen, optimize affinity of your lead candidates, predict off-target effects early in discovery, and much more.
All functionality is accessible from the convenience of your web browser. You can build models, calculate, and analyze your results, as well as share, visualize, and discuss data with your colleagues in real-time. Collaboration has never been easier.
The 2023.1 Orion Suites and Modules release includes:

Small Molecule Discovery Suite

Structure- and Ligand-Based Design

Reduce compute cost in Gigadock™ Warp using Machine Learning
Improve protein sampling with weighted ensemble Molecular Dynamics
Discover protein cryptic pockets using single or mixed solvent simulations
Accurately dock into flexible binding sites with induced fit posing

Machine Learning

Easily optimize model hyperparameters
Improve existing models with new data using transfer learning
Predict and explain hERG toxicity in an intuitive way

Cheminformatics and Data Processing Tasks

Generate large databases for fragment-based design with an enhanced molecular fragmentation floe

Quantum Mechanics Calculations

Increased accuracy in geometry optimization
Improved reliability in torsion scanning with lower compute cost

Gaussian Module

Better compute performance with improved scaling and parallelization

And many more…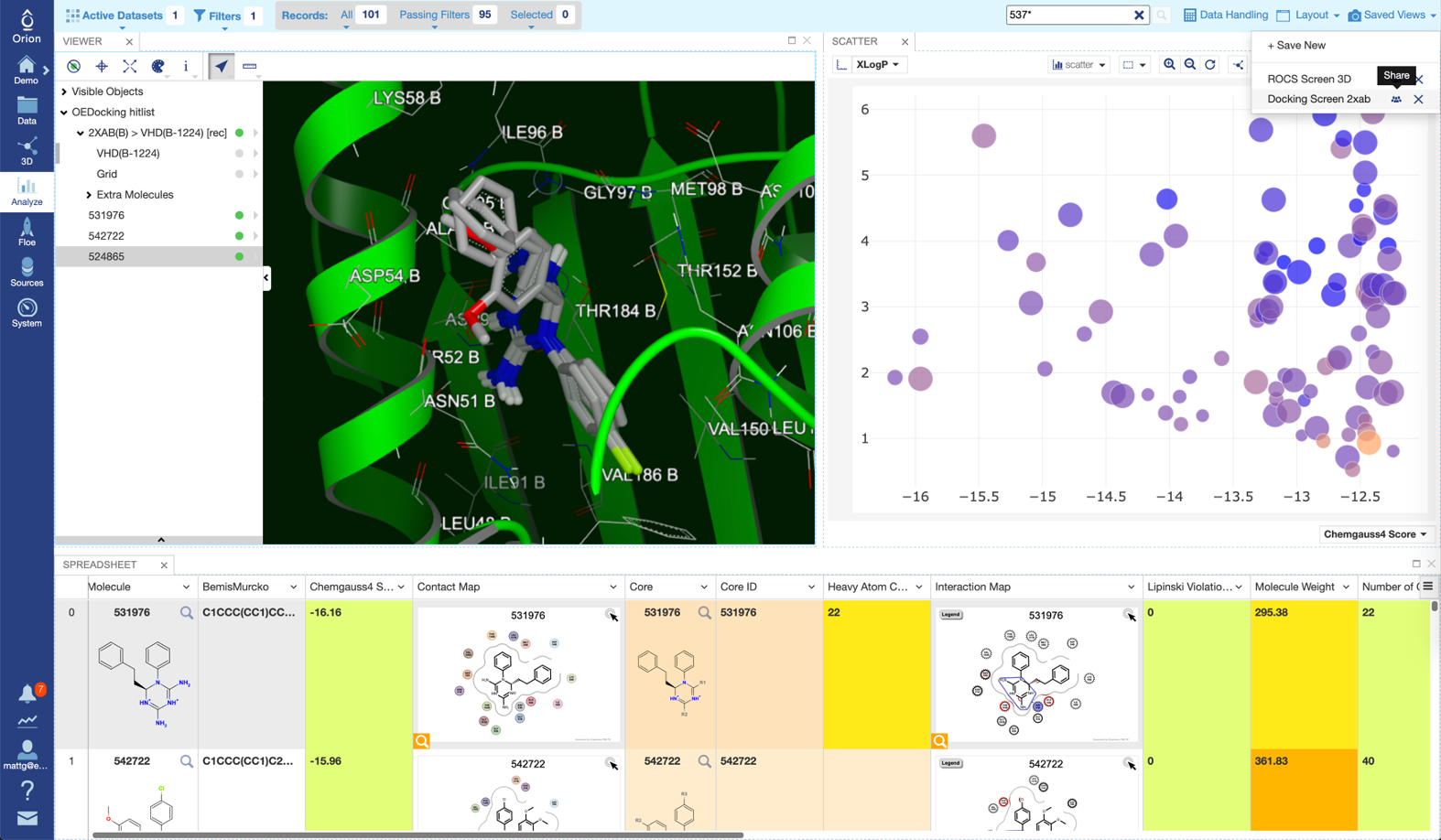 With the Orion Small Molecule Discovery Suite, you get:
Robust science in easy-to-use workflows. Leverage trusted OpenEye science from ready-to-use Orion workflows (Floes)
Convenience. Access drug discovery modeling workflows for data preparation, modeling, and analysis from a unified web environment
Sketch and search. Easily perform 2D and 3D search of more than 5 billion commercially available compounds, making your large-scale virtual screening faster and easier
Time and cost savings. Save time and money with workflows that are optimized for speed, cloud performance, and cost efficiency
No restrictions. Tackle your most challenging therapeutic projects without licensing restrictions on the number of modeling tasks you perform or the size of your calculations
Watch the on-demand webinar on the Overview of Orion Small Molecule Discovery Suite
Workflows for All Stages of Drug Discovery
The Orion Small Molecule Discovery Suite provides easy-to-use automated Floes (guided workflows) for all stages of drug discovery.
Delivered the Way You Need.