Trusted Science. Delivered the Way You Need.
Orion - Science on a Cloud Platform
Orion® is a software cloud platform for all your molecular design and simulation needs, removing the requirement to run and maintain expensive infrastructure hardware. All you need is a web-browser.

With Orion, you can access OpenEye's industry leading computational tools and innovative science, on the cloud.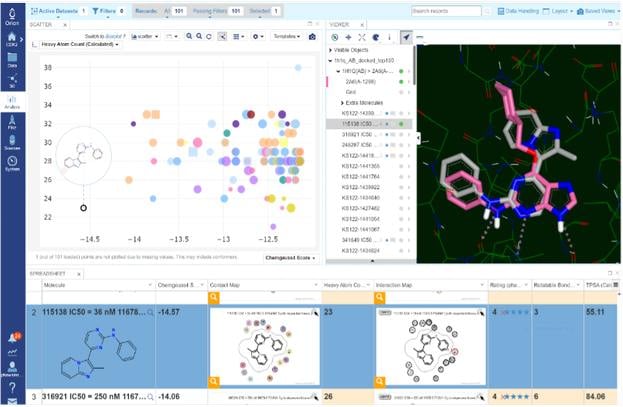 Secure Web Based Access from Anywhere, Anytime.
Orion is Designed to:
Run ligand-based or structure-based virtual screenings, molecular dynamics (MD) simulations, free energy predictions, quantum mechanics calculations, sequence analysis, and more from just a web browser
Perform ultra-fast 2D and 3D search on billions of molecules
Integrate third-party or in-house tools seamlessly
Collaborate with colleagues easily with sharing of data, analysis, and visualization
Leverage easy to use pre-built (guided) workflows or create your own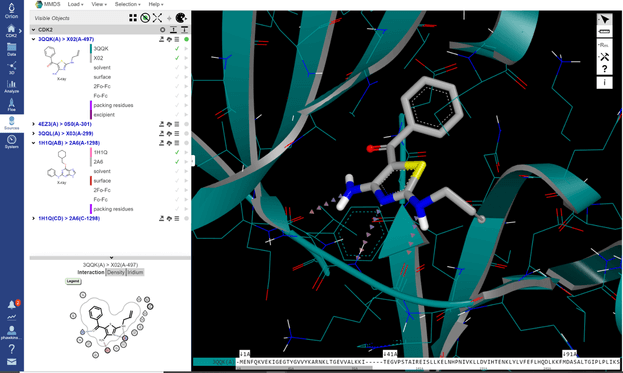 Orion Helps Scientists Discover Novel Compounds
The results that Beacon has achieved using the Orion Platform have been nothing short of amazing…I would whole-heartedly recommend the Orion Platform to anybody that is trying to do any kind of small molecule virtual screening.
Carleton Sage
Vice President of Computational Science, Eurofins Beacon Discovery
The Orion Platform and Science Suites
Orion consists of the base Orion Platform and Orion Science Suites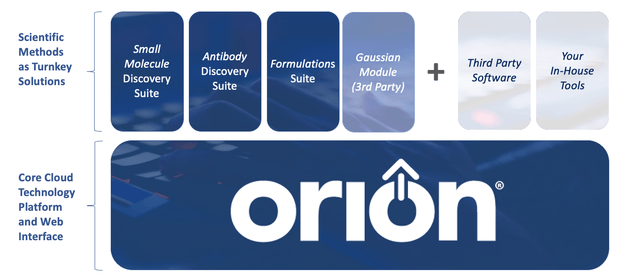 Orion Science Suites
OpenEye is renowned for its chemical modeling applications and toolkits. All of its science has been through rigorous validations and peer-reviews. Running these trusted solutions on AWS means you can now solve modeling questions that were previously impossible due to compute-time or hardware limitations.
The Orion Science Suites group together complementary functionality into solutions for:
Depending on which Orion Science Suite you chose, you may have access to powerful tools for:
Target Modeling
Sequence analysis and protein dynamics
Lead identification
Shape-based searching and ligand-based docking
Lead Optimization
Fragment replacement and scaffold hopping, solvent effect optimization, affinity calculation with entropy correction, free energy calculation
Antibody Engineering
NGS analysis and selection
Why Orion?
Not only does Orion deliver trusted science, it also provides unparalleled usability, cost controllability, and security.
Blazing fast virtual screening. Gigadock™ (3D docking) and FastROCS™ (3D shape searching) in Orion set the industry standard for ultra-large scale screening calculations. Get your projects completed in less time with Orion; dock and search from tens of compounds to billions with ease. Science at an unprecedented scale and speed, is now at your fingertips.
Billions of searchable molecules (ligands). Orion includes more than 9 billion stereoenumerated small molecules from commercial vendors including Enamine, WuXi, and Mcule. No more hassle of having to prepare commercial databases for your searches. These molecular databases are prepared and ready for your 2D and 3D searches, in a unified setting.
Prepared, ready-to-use, and curated protein crystal structures. Access to >100,000 models of protein crystal structures across different target families. These protein models have been carefully curated and assessed based on the quality of their crystallographic data. The models are grouped by family, aligned, and prepared for your docking and visualization needs. With Orion, you can readily compare your small molecule ligands against these target proteins.
Ready-to-use Floes and Cubes. With more than a hundred ready-to-use Orion Floes and Cubes, Orion covers many of your modeling needs. Easily modify and build Floes and Cubes from the Orion user interface or use Python. OpenEye continues to add innovative, robust, and validated science to the workflows.

Ease of use. OpenEye Scientific applications and toolkits are available as turnkey solutions, as well as fully customizable Floes and Cubes in Orion.
Real-time collaboration. The Orion integrated platform allows you to calculate, visualize and analyze data, and collaborate instantaneously with your team members. No more dealing with file transfers and data formatting between applications.
Fast and easy implementation. Orion can be accessed anywhere using a web browser. With no specialized hardware or servers necessary, it is easy to get Orion up and running quickly.
Integrate your in-house and third-party tools. Orion's open platform concept and use of Python allows for straightforward integration of vendor applications or your in-house tools.

Cost monitoring. With Orion, you can monitor your compute cost in real-time, down to the seconds and by the cents. You also can set cost thresholds and Orion will notify you before you hit the limit. Both features allow you to easily monitor budgets by projects.
Cost scheduler. You have the choice in Orion to schedule your calculations to run immediately on AWS on-demand instances or to run flexibly on the less-expensive AWS spot instances, saving you hundreds or thousands of dollars per calculations.
Cost optimization. Orion's proprietary design searches for the best GPU, CPU, or GPU/CPU combinations to maximize your computational return on cost. Orion frees you to focus on your science instead of hardware.
Pay-per-use. Orion customers have found significant cost savings using the Orion cloud platform rather than maintaining their local hardware infrastructure (investment, maintenance, scalability, etc.).

Industry gold standard. Orion uses Amazon Virtual Private Cloud and S3 Cloud Storage, which is the industry gold standard for security. Your data always is secure, in-transit and in-storage.
Controlled access. In Orion, you fully control who has access to your data on a user or project level.
Vigilant monitoring. The OpenEye cloud team monitors your Orion infrastructure security 24/7.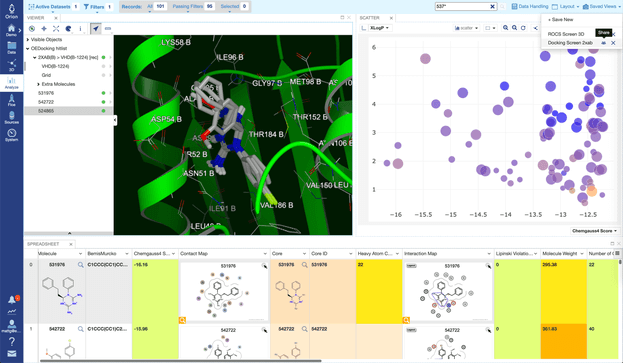 Select Publications & Presentations
From those who trust the Orion Platform and Science Suites to run their most sensitive and mission-critical projects.
Virtual Screening in the Cloud: How Big Is Big Enough?, Christoph Grebner, Erik Malmerberg, Andrew Shewmaker, Jose Batista, Anthony Nicholls, and Jens Sadowski. Journal of Chemical Information and Modeling 2020 60 (9), 4274-4282
Comprehensive Assessment of Torsional Strain in Crystal Structures of Small Molecules and Protein–Ligand Complexes using ab Initio Calculations., Brajesh K. Rai, Vishnu Sresht, Qingyi Yang, Ray Unwalla, Meihua Tu, Alan M. Mathiowetz, and Gregory A. Bakken. Journal of Chemical Information and Modeling 2019 59 (10), 4195-4208.
On-Demand Webinar: Orion® - OpenEye's cloud-native platform for molecular design., Presented by Matt Geballe, VP, Product.