OpenEye, Cadence Molecular Sciences has partnered with Azenta, Inc., a life sciences provider, to power Azenta's new Next-generation sequencing (NGS) enabled workflow. The new offering utilizes OpenEye's Orion® Antibody Discovery Suite, which features AbXtract™, developed by Specifica, a Q2 Solutions Company.
AbXtract processes high-and low-throughput sequencing data to identify the most promising antibody leads. Representatives from Azenta and Specifica collaborated with OpenEye's Suhani Nagpal, PhD, Application Scientist, and Amy Migliori, Ph.D., EMBA, Head of Partnerships, on "Sequencing to Synthesis: Precision Antibody Discovery Leveraging Machine Learning to Prioritize Leads."
The method enables end-to-end high-throughput screening of an antibody library to generate 5–50x more antibody leads than traditional low-throughput approaches.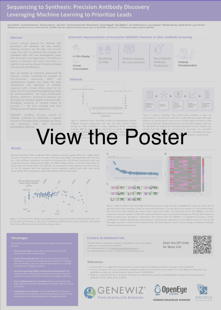 Included under the poster references is "Insights into next generation sequencing guided antibody selection strategies." Now published, OpenEye's Jesper Sørensen, PhD, Head of Biomodeling and Suhani Nagpal were part of the scientific team, in collaboration with Specifica, the New Mexico Consortium, Public Health Research Institute and the University of Oslo.
The study highlights the benefits of NGS, and recommendations on the most effective approach to leverage NGS in therapeutic antibody discovery.
For more information on antibody discovery, contact sales@eyesopen.com.