Azenta, Inc., a life sciences automation provider, is starting to develop a new workflow incorporating their in silico Antibody Discovery Module (ADM). The workflow being developed – powered by OpenEye, Cadence Molecular Sciences' Orion® Antibody Discovery Suite featuring the AbXtract™ module developed by Specifica, a Q2 Solutions Company – may use important heuristics and machine learning for antibody (Ab) sequence analysis to generate a diverse list of Ab candidates for recombinant production.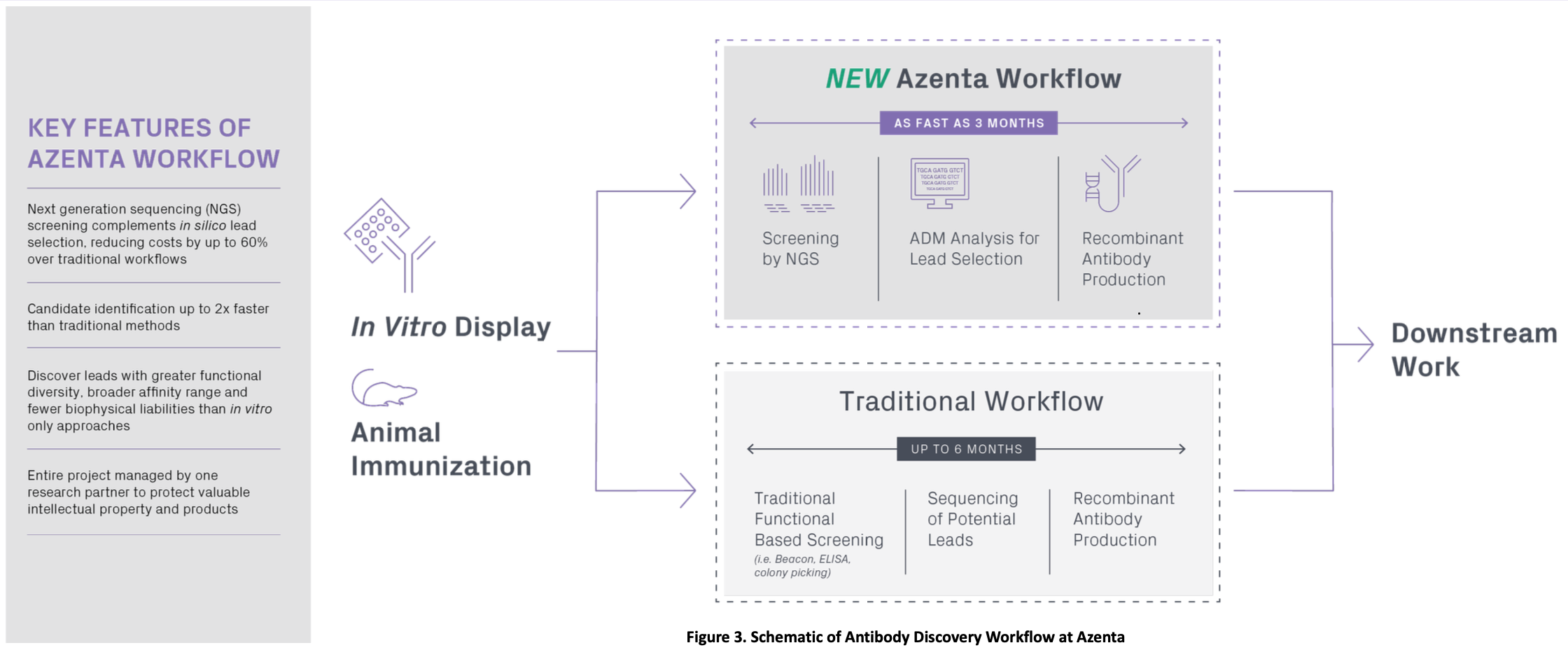 Graphic from "Sequencing to Synthesis: Innovative Antibody Discovery Workflow Leveraging Biological Intelligence to Prioritize Leads" poster. The full poster and abstract are on display at in the OpenEye booth #1030 at PEGS Boston in the Hynes Convention Center.
Azenta's Ilaria De Vito, PhD, Senior Strategic Intelligence Analyst, Next Generation Sequencing, will discuss, "Sequencing to Synthesis: How Machine Learning Maximizes Process Efficiency in Antibody Discovery," a collaborative study with OpenEye's Suhani Nagpal, PhD, Application Scientist and Amy Migliori, Ph.D., EMBA, Head of Partnerships; and Specifica's M. Frank Erasmus, PhD, Head of Bioinformatics, and Laura Spector, PhD, Bioinformatics Scientist.
The talk will take place on Friday, May 19, 2023, at 10 a.m. at the 19th Annual Protein & Antibody Engineering Summit (PEGS) Boston Conference & Expo 2023.
Event Information
In addition to exhibiting in Booth #1030 at PEGS Boston at the Hynes Convention Center in Boston, OpenEye is exhibiting in Booth #327 at the Bio-IT World Conference & Expo, also being held at the Hynes Convention Center in Boston.
Hynes Convention Center
900 Boylston St.
Boston, MA 02115
PEGS Boston | May 15-19, 2023 | OpenEye Booth #1030
Bio-IT World | May 16-18, 2023 | OpenEye Booth #327