Sygnature Accelerates Customers' Drug Discovery Timelines with Improved Hit Identification, Lead Optimization Capabilities
SANTA FE, N.M., USA, & NOTTINGHAM, UK – 21 January 2021 – OpenEye Scientific and Sygnature Discovery – a world-leading integrated discovery and pre-clinical solutions provider – today announced the adoption of OpenEye's Orion™ platform to power Sygnature's computational efforts in molecular design drug discovery solutions.
On behalf of pharmaceutical and biotechnology companies globally, all of Sygnature Discovery's Computer-Aided Drug Design team will benefit from the Orion platform's large-scale capabilities: virtual high-throughput screening of billions of molecules, molecular dynamics simulations including binding free energy calculations, and quantum mechanics calculations.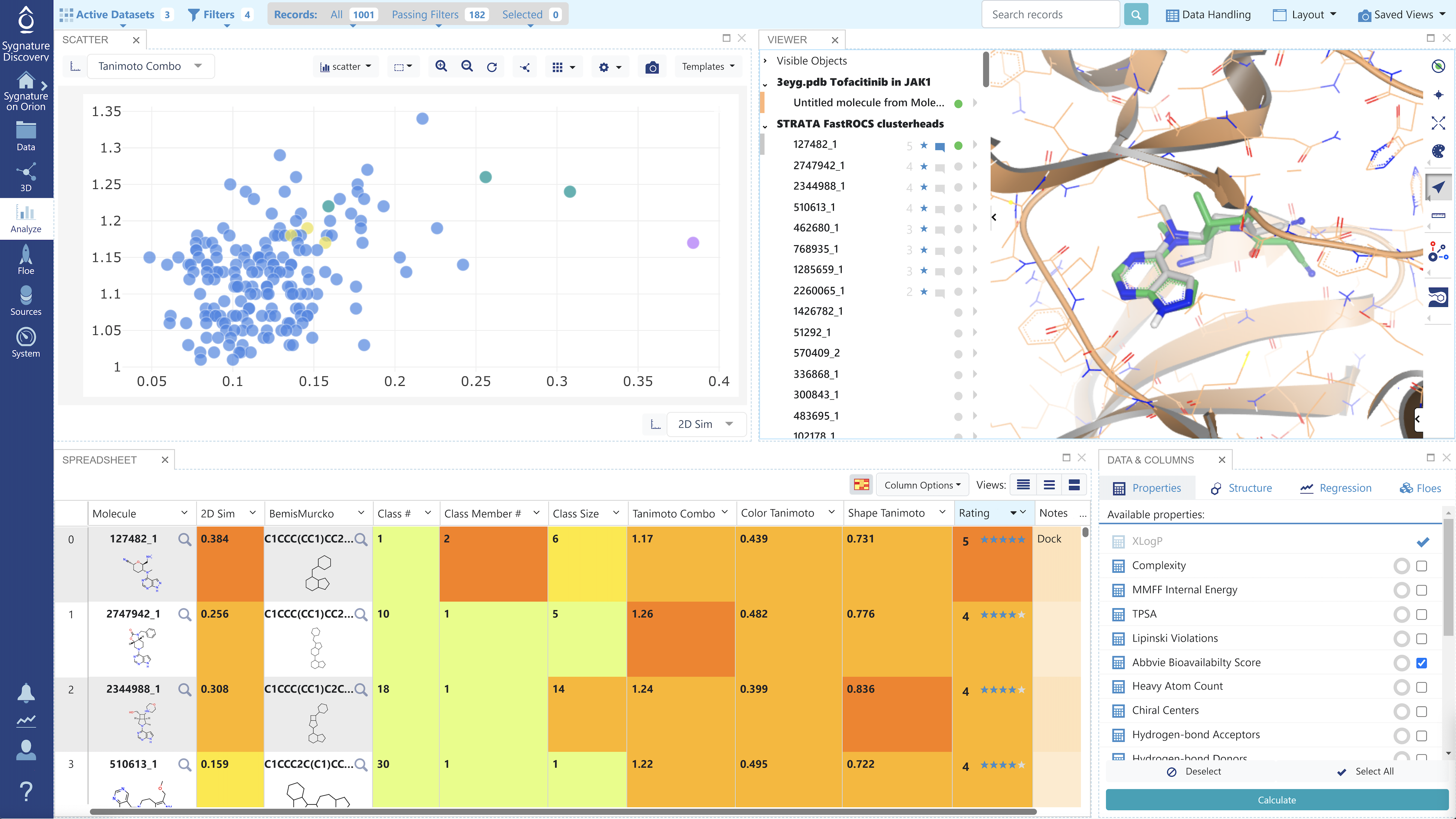 Sygnature Discovery uses OpenEye Scientific's Orion™ molecular design platform to power Sygnature's high-throughput FastROCS screening of Tofacitinib using the proprietary STRATA database
In using Orion, scientists at Sygnature now can easily leverage the power of hundreds of thousands of CPUs at Amazon Web Services, which will have a dramatic impact on both the quality and diversity of the hits generated for their customers' projects, while accelerating those projects' timelines and reducing project costs.
"Our mission at Sygnature is quite simple: to enable success for our customers through world class science, and to help bring life-changing therapeutics through the challenging drug discovery process in order to help patients get the best medicines possible," said Dr. Simon Hirst, CEO and Founder of Sygnature Discovery. "That means employing the best technologies available to support our scientists in that quest, and we are very excited to see how the Orion platform will power more efficiency and new breakthroughs in our projects."
Sygnature's use of the Orion platform provides cloud-based molecular and data visualization and analytics as well as facile access to the latest scientific methods, making it possible for Sygnature to unify and operate modeling tasks for the first time without leaving the cloud.
"Sygnature Discovery is using Orion exactly as we conceived: as a molecular design ecosystem of data visualization, communication and workflow tools in a robust, scalable cloud environment," said Dr. Anthony Nicholls, CEO of OpenEye Scientific. "It is really gratifying to see Sygnature helping its clients identify more hits and optimize more leads using Orion's industry-leading technology infrastructure and scientific methods."