Ultrafast 3D Docking in Orion
Orion provides two ultra-fast 3D docking approaches for uncovering diverse compound candidates. So no matter the size of your search space or budget, Orion has a solution for you.
Gigadock™ - Very fast and comprehensive docking solution suitable for billions of compounds - when you need the most rigorous results
Gigadock Warp - Intelligent docking for billions of compounds with minimal hardware and at an affordable cost - all you need is a target
OpenEye's (Gigadock™) novel technology seamlessly implemented on the Amazon cloud has been a game-changer for our computational approaches to drug discovery. We have leveraged these tools to make significant progress on multiple targets. -- Sunny Al-Shamma, CEO of Beacon Discovery.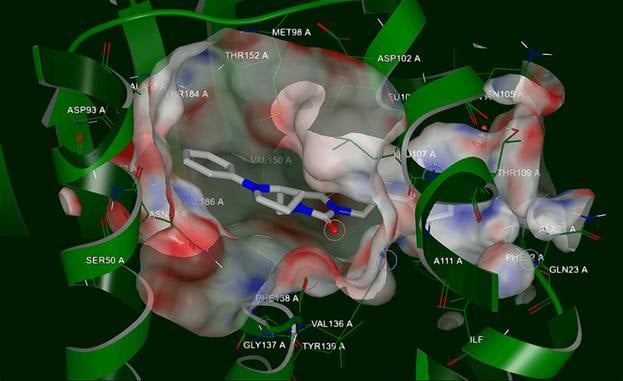 Scientists Are Benefiting From OpenEye's Gigadock
Learn More
Learn more about how Gigadock works by watching this webinar recording:
Gigadock™ - Structure Based Virtual Screening of Over 1 Billion Molecules.
Virtual docking methods can help you uncover diverse sets of promising compounds for your therapeutic projects. The massively parallel Gigadock and Gigadock Warp in Orion delivers groundbreaking functionality that lets you perform full 3D docking of all molecules in ultra-large databases of billions of molecules in less than a day by leveraging AWS cloud computing. With the available Orion Commercial Compound Library Collections, you easily can search and analyze more than 5 billion readily available compounds on a unified platform.
With Gigadock, 3D docking is:
Fast – Gigadock is massively parallel and can efficiently leverage thousands of CPUs from AWS
Robust – Gigadock lets you dock billions of molecules and provides a complementarity method to ligand-based screening methods (such as ROCS® shape-similarity) for finding diverse compounds
Accessible – Gigadock makes ultra-large scale docking accessible to everyone, not just those with powerful in-house computational resources, and it does so from the convenience of your web browser
Extendable – Gigadock lets you do virtual screening of your in-house corporate collections or of billons of commercially available compounds
When speed and affordability matter most to you, Gigadock Warp is your solution to docking billions of compounds from the convenience of your web browser - all you need is a target. Gigadock Warp is:
Reliable Science – Results show significant overlap (~70% when docking billions) of the same molecules in the top 10K hit list when compared to Gigadock
Faster and Cheaper – An in-house study shows Gigadock Warp can be ~8x less costly than Gigadock (costs vary widely from target to target)
Flexible – You can choose optimized default parameters or customize your runs by fine-tuning various parameter settings related to querying, clustering, and docking
Gigadock Warp is an intelligent docking approximation method at a fraction of the cost of conventional docking approach. Gigadock Warp achieves this by using FastROCS™ to identify molecules likely to score well (based on their 3D similarity to poses that score well in an initial trial docking) and then doing a full docking of the molecules that FastROCS identifies.
When you need to do 3D docking against billions of compounds, Gigadock and Gigadock Warp provide you with the ultimate choice for the best in science, cost, and speed.
The Eurofins Beacon Discovery scientists quickly identified two novel chemical entities and more than 30 potent hits for GPCR targets. Their team utilized structure-based virtual screening through Gigadock functionality and ligand-based virtual screening through FastROCS to rapidly screen the Enamine REAL® collection of more than 2.5Bn commercially available molecules. Access the news release and the webinar.