Ultrafast 3D Docking in Orion
Docking methods can help you uncover diverse sets of promising compounds for your therapeutic projects.
OpenEye provides two ultra-fast docking approaches for uncovering diverse hits, within the Orion® cloud modeling platform. Whether you are searching a small set of compounds or a library of billions, we have the solution for you.
Gigadock™ - Fast, robust and comprehensive docking solution - when you need the most rigorous results
Gigadock™ Warp - Intelligent machine learning docking with

unparalleled speed and efficiency - when compute cost is critical
OpenEye's (Gigadock™) novel technology seamlessly implemented on the Amazon cloud has been a game-changer for our computational approaches to drug discovery. We have leveraged these tools to make significant progress on multiple targets. -- Sunny Al-Shamma, CEO of Beacon Discovery.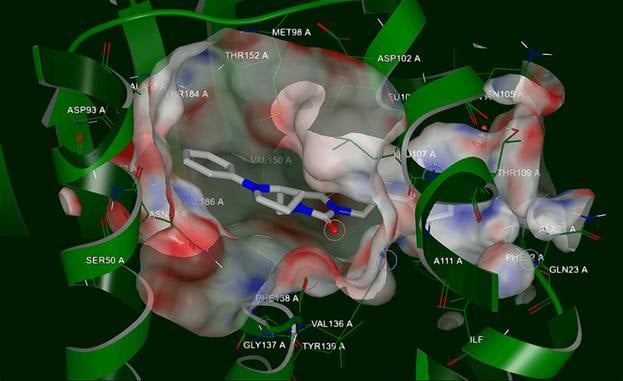 Features
Fast. Massively parallel docking approaches that efficiently leverage thousands of CPUs from AWS
Reliable.

Industry standard methodology with a proven track record of success and numerous published results

Robust. Dock from tens to billions of molecules seamlessly
Accessible. Access anywhere from the convenience of your web browser
Extendable. Perform virtual screening on your in-house corporate collections or on billons of commercially available compounds
Flexible. Use optimized default parameters or customize your runs by fine-tuning various parameter settings.
Industry scientists using OpenEye's fast virtual screening to discover novel compounds
The results that Beacon has achieved using the Orion Platform have been nothing short of amazing…I would whole-heartedly recommend the Orion Platform to anybody that is trying to do any kind of small molecule virtual screening.
Carleton Sage Vice President of Computational Science,
Eurofins Beacon Discovery
FAQs
Whether you need to do 3D docking against tens or billions of compounds, Gigadock and Gigadock Warp provide you with the ultimate choice for the best in science, cost, and speed.
While it is possible to recruit tens of thousands of CPUs (or more) in the cloud, Gigadock and Gigadock Warp within the Orion platform utilize a cost-efficient approach that ensures only necessary instances are running and unused instances are quickly shut down. This approach maximizes cost efficiency, making it an attractive option for those looking to run large-scale docking calculations.

Moreover, the Orion platform has built-in tolerance to instances that may fail or be taken away due to the dynamic nature of Amazon Web Services spot market pricing. In such instances, the pieces of work are retried seamlessly, ensuring that no work is lost or dropped, even at these extreme scales. This means that users can rest assured that their calculations will be completed successfully, without having to worry about the details of managing the cloud infrastructure.

Gigadock is an excellent choice when you require a rigorous docking approach to accurately sample the active site of interest. Gigadock evaluates the docking solely on the complementarity of the molecule to the shape and interactions of the binding site, without any bias towards known active molecules. This approach allows for the discovery of a wider range of new actives, potentially leading to the identification of more diverse and effective compounds for your research.

Gigadock Warp is an ideal choice for situations where you have large databases with computational cost constraint for your docking calculations. This innovative tool combines a smart combination of docking, shape similarity, and machine learning, allowing it to approximate the docking algorithm while maintaining almost identical hit performance to Gigadock. Suitable for searching very large databases, by utilizing Gigadock Warp, you save significant computational cost while still achieving accurate and reliable docking results.

Gigadock Warp is an intelligent machine learning docking method at a fraction of the cost of conventional docking approach. Gigadock Warp achieves this by using a combination of dock scoring (FRED and HYBRID), shape similarity (FastROCS™) and machine learning models to identify top scoring molecules.

An in-house study shows Gigadock Warp can be ~8x-10x less costly than Gigadock (costs vary widely from target to target)

Gigadock Warp results show significant overlap (~70-90% when docking billions) of the same molecules in the top 10K hit list when compared to Gigadock

With the available ready-to-search Commercial Compound Library Collections in Orion, you easily can search and analyze more than 12 billion stereoenumerated commercially available compounds on a unified platform. Available vendors include Enamine, WuXi, Mcule, Molport, and Liverpool ChiroChem.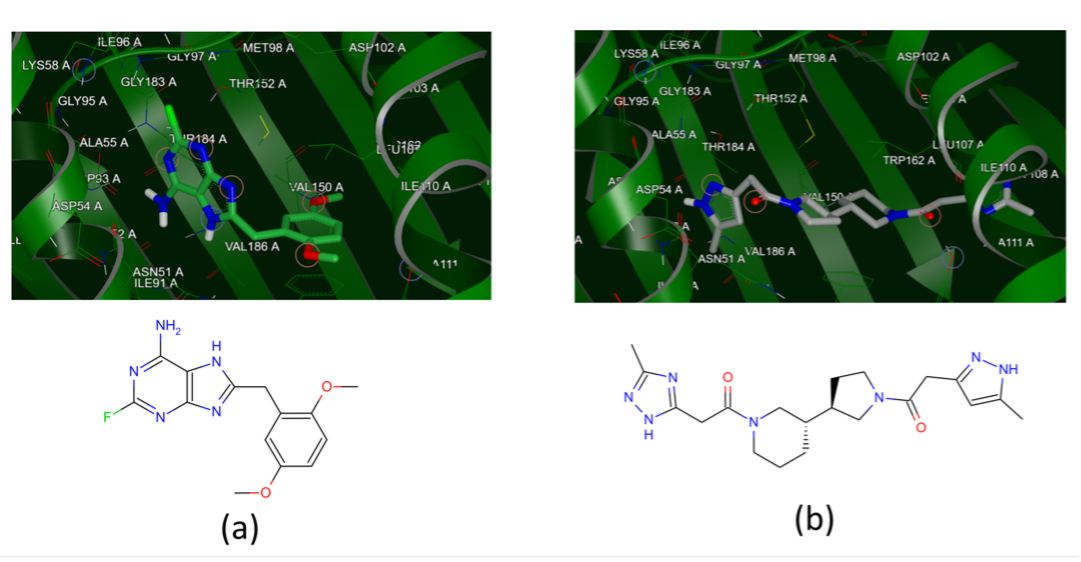 Gigadock for lead generation. (a) Co-crystal ligand, a 53mm inhibitor, bound to the HSP90 active site. (b) Results from Gigadock against Enamine library. Top scoring compound, a 4mm inhibitor, docked to HSP90.
Learn More
OpenEye's extremely fast docking methods help you use 3D information to speed up your drug-design process and optimize your leads. Learn more about how Gigadock works by watching this webinar recording:
Gigadock™ - Structure Based Virtual Screening of Over 1 Billion Molecules.
And, learn how the Eurofins Beacon Discovery scientists quickly identified two novel chemical entities and more than 30 potent hits for GPCR targets. Their team utilized structure-based virtual screening through Gigadock functionality and ligand-based virtual screening through FastROCS to rapidly screen the Enamine REAL® collection of more than 2.5Bn commercially available molecules. Access the news release and the recorded webinar.